DIMO token now supported by ioPay Wallet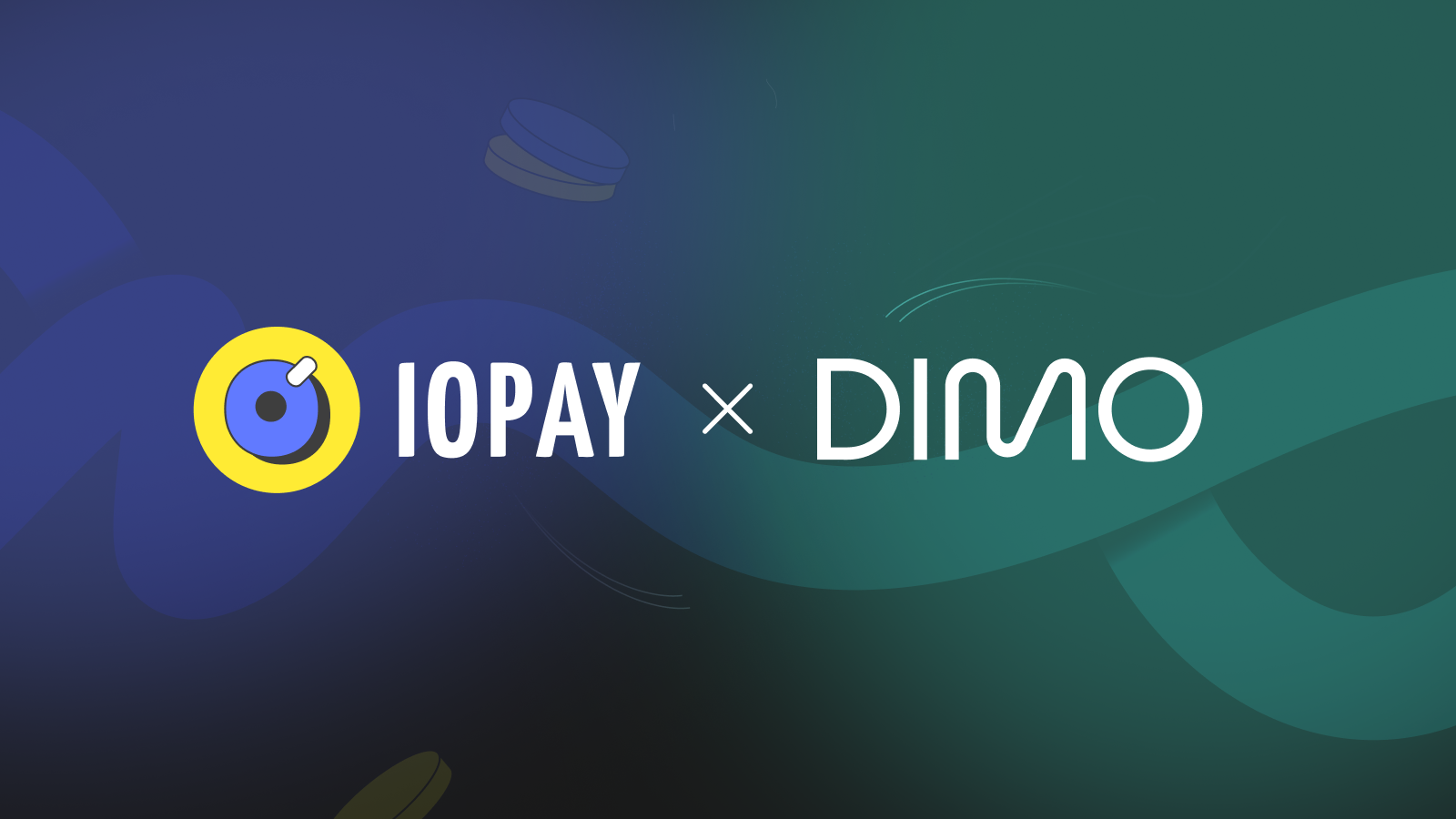 $DIMO Token Support Announcement!
As the DePIN (Decentralized Physical Infrastructure Network) wallet of choice, ioPay is happy to announce the support of $DIMO token. DIMO is one of the biggest players in DePIN and a proud partner partner of IoTeX and ioPay. See below for more information about what DIMO is and how to add the token to your ioPay wallet.

What is DIMO?
Vehicles today produce a wealth of data: speed, safety, camera feeds, and more. DIMO is forging a worldwide network, empowering ordinary folks to gather and profit from their vehicle data. On this foundation, developers and data firms can construct decentralized apps and mobility services, covering everything from vehicle health records and driver behavior to insurance and beyond. Experts predict that the current 250 million connected vehicles globally will skyrocket to a staggering 2.5 billion, presenting an incredible opportunity for Web3 to reach millions of new users. As a result, developers and entrepreneurs will have an exciting chance to develop decentralized applications (dApps) that empower both drivers and fleet operators.
A recent McKinsey report has shed light on a fascinating projection: by the year 2030, an estimated 95% of all vehicles sold could be connected. Furthermore, this study suggests that data derived from advanced vehicles during that period could hold an annual value of $600 per vehicle. In fact, other reports even indicate that profits generated from vehicle data may soon surpass the actual cost of the vehicle itself. In the near future ioPay will be supporting several data points that will allow you to compare DIMO to some of the other DePIN projects and tokens so you can make the most informed investing decisions.

How to add DIMO on ioPay?
Step 1) Log into your ioPay wallet and change the network from IoTeX over to Polygon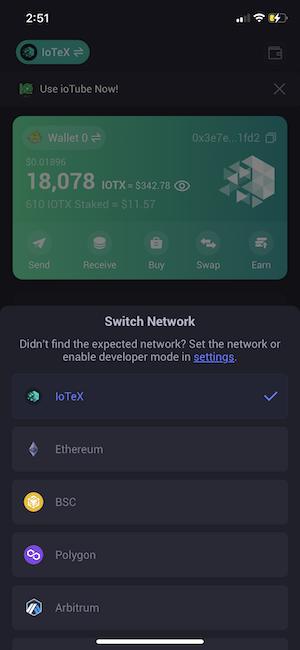 Step 2) Select the + button on the right of "Token" to see the list of supported tokens you can add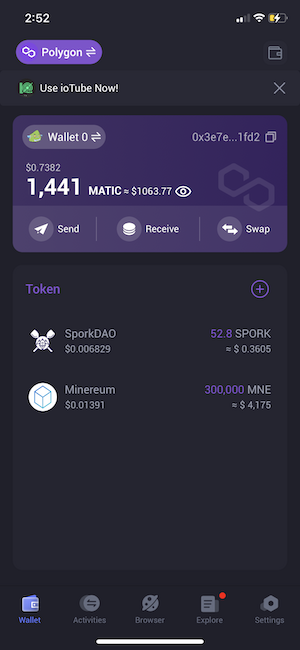 Step 3) Add DIMO by selecting it from the list of ERC20 tokens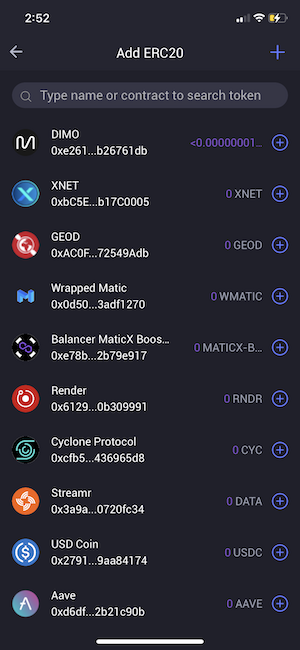 Step 4) You will now see DIMO appear in your ioPay wallet!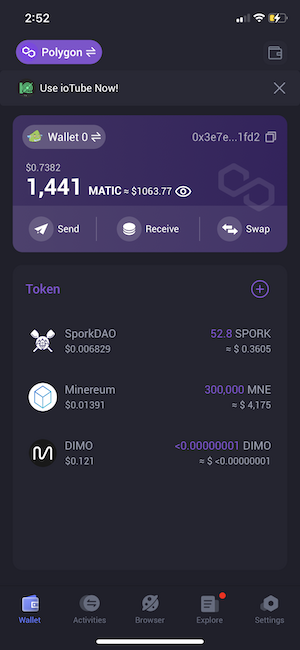 Step 5) By clicking into the DIMO you can see a closer overview of the asset as well as a link to the site.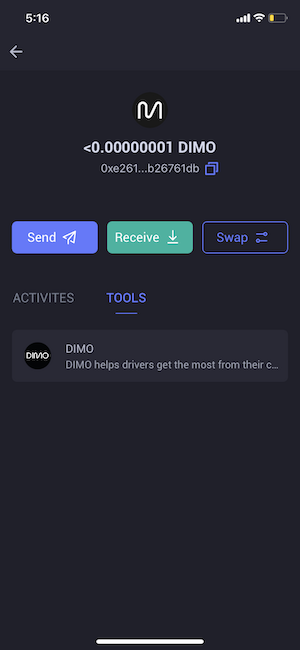 What is ioPay?
ioPay, the DePIN crypto wallet of choice, is a multi-chain crypto wallet designed for the DePIN sector.
If you are interested in DePIN you can learn more about the latest developments in the sector and compare projects by visiting DePINscan. DePINscan powered by W3bstream and IoTeX is designed to empower intelligent investors in the DePIN sector.
The primary goal of ioPay is to provide users with a comprehensive and user-friendly crypto experience. As the DePIN wallet of choice ioPay is focused on eventually supporting all DePIN assets including NFTs, tokens, and cryptocurrencies as well as providing investor friendly DePIN dashboard, analytics, and device management. ioPay was built by the IoTeX team leveraging expertise in blockchain technology to design the secure and feature-rich wallet you see today. The integration of support for various chains in ioPay enables users to manage your diverse cryptocurrencies, tokens and DePIN assets in one unified and efficient platform, catering to your unique needs as part of the crypto and DePIN community.
If you would like to have your token supported on ioPay, feel free to contact us at [email protected]. Follow the ioPay Twitter as we roll out even more features and functionality. For our all-in-one ioPay v2 User Guide, click here. For any support issues contact [email protected].